About us
Fondée en 2012 par Isabelle Staripolsky, Accordanse est un espace pédagogique dédié à la DANSE où les 2 maîtres-mots sont apprentissage et plaisir. Apprentissage de qualité qui respecte la personnalité, les objectifs et les possibilités physiques de chaque élève tout en y alliant le plaisir dans une ambiance conviviale. Nos cours Accordanse est ouverte du lundi au samedi et propose des cours de pré-danse, danse classique, pointes, danse contemporaine et modern jazz.Les cours s'adressent aux enfants à partir de 4 ans, adolescents et adultes (tous niveaux). L'apprentissage de la danse chez Accordanse va au-delà des pas et des mouvements. Nous cherchons à cultiver une compréhension approfondie de cet art en enseignant la technique, tout en explorant l'aspect artistique de chaque style. Nos cours sont conçus pour inspirer la passion en développant la discipline, permettant aux élèves de progresser vers leur plein potentiel, de s'épanouir et de découvrir la joie infinie que la danse peut offrir. Une approche axée sur l'humain Dans un monde en constante évolution, nous mettons l'accent sur l'aspect humain de l'enseignement de la danse. Nous comprenons que chaque danseur est unique, avec des rêves, des besoins et des aspirations différents. Notre équipe de professeurs dévoués met en œuvre une pédagogie empathique qui permet à chaque élève de s'épanouir à son propre rythme qu'il s'agisse d'un débutant curieux ou d'un futur professionnel ambitieux. Nous favorisons un environnement bienveillant où la créativité est encouragée, les défis sont surmontés ensemble et les succès sont célébrés collectivement. L'importance de la communauté d'Accordanse La puissance d'une communauté solidaire est au centre de nos préoccupations. Les liens qui se créent entre les élèves, les parents et les professeurs nous tiennent à cœur et font partie de nos valeurs. Où que votre voyage vous mène, nous serons là pour vous guider avec bienveillance, soutien et enthousiasme. Bienvenue chez Accordanse ! Isabelle Staripolsky, Directrice Founded in 2012 by Isabelle Staripolsky, Accordanse is a pedagogical space dedicated to DANCE where the two key words are learning and enjoyment. Quality learning process that respects identity, goals and physical strength possibilities of each student as well as going through enjoyment and a friendly atmosphere. Our classes Accordanse is open from Monday to Saturday and offers classes in pre-ballet, ballet, pointes, contemporary dance and modern jazz.Classes are for children aged 4 and over, teenagers and adults (all levels). Learning to dance at Accordanse goes beyond steps and movements. We aim to cultivate a deeper understanding of the art by teaching technique, while exploring the artistic aspect of each style. Our classes are designed to inspire passion by developing discipline, enabling students to progress towards their full potential, to flourish and to discover the infinite joy that dance can offer. A human-centred approach In an ever-changing world, we emphasise the human aspect of teaching dance. We understand that every dancer is unique, with different dreams, needs and aspirations. Our team of dedicated teachers uses empathetic teaching methods that allow each student to develop at their own pace, whether they are a curious beginner or an ambitious future professional. We foster a caring environment where creativity is encouraged, challenges are overcome together and successes are celebrated collectively. The importance of the Accordanse community The power of a supportive community is at the heart of our concerns. The bonds forged between students, parents and teachers are important to us and are part of our values. Wherever your journey takes you, we'll be there to guide you with kindness, support and enthusiasm. Welcome at Accordanse ! Isabelle Staripolsky, Director
Amenities
Showers

Food

Shop

Wellness

Changing rooms

Parking lot

Card Payment
Location
Avenue Georges Henri 448 , 1200 Bruxelles
Reviews
4.9
26 reviews
---
---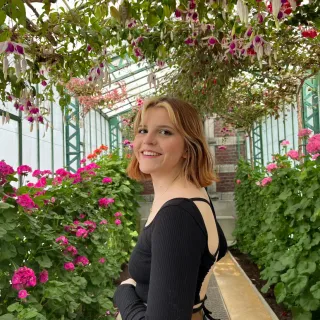 The teacher is really sweet and kind
---
---
Further helpful information
About the Team
Découvrez l'équipe d'Accordanse sur www.accordanse.be (Cours/Professeurs). Discover Accordanse' team on www.accordanse.be (Cours/Professeurs).
Frequently Asked Questions
1. What else should I know?
Vous cherchez des cours de danse pour enfants et ados? Contactez Accordanse au 0475/505 316. Nous avons ce qu'il vous faut! Description de l'infrastructure · Espace d'accueil et wifi gratuit · Studio lumineux de 90m² (donnant sur un jardin) équipé d'un plancher flottant recouvert d'un tapis de danse Harlequin, miroirs, barres murales et mobiles, sonorisation (deux lecteurs CD et câble Jack), éclairage dimmable. Tapis de stretching · Vestiaires H/F séparés équipés de douches · Terrasse et emplacement pour vélos ATTENTION: le parking dans l'avenue Georges Henri est payant entre 9h et 18h00 du lundi au samedi (contrôles fréquents !!). Les rues perpendiculaires à l'avenue Georges Henri (passé le boulevard Brand Withlock) sont des zones bleues (disque de stationnement obligatoire). Are you looking for dance classes for children and teenagers? Contact Accordanse at 0475/505 316. You are in the right place! The School Setting • Reception area and free wifi • Bright 90m2 studio (giving onto a garden), floating floor equipped with a Harlequin dance mat, mirrors, wall bars and mobile bars, sound system (two CD player; Jack cable) • Stretching mat • Separate changing room for men and women with showers • Terrace and bikes parking ATTENTION : parking charge in avenue Georges Henri between 9.00 am and 6.00 pm from Monday to Saturday (frequent controls!!). Perpendicular streets to avenue Georges Henri (after Boulevard Brand Whitlock) are blue areas (the use of parking disc is compulsory).
2. What should I do if I have booked but cannot come?
Si vous ne pouvez pas assister au cours réservé, il faut annuler votre réservation. L'annulation doit être effectuée via le système de réservation en ligne ou l'application mobile jusqu'à 2 heures avant un cours sans pénalité. Les annulations ne seront pas acceptées par téléphone ou par e-mail. Si vous n'assistez pas à un cours réservé ou si vous annulez dans les 2 heures qui précèdent l'heure du début du cours, celui-ci sera automatiquement déduit de votre carte. If you cannot attend the class, you must cancel your reservation. Cancellation must be made through the online booking system or mobile app up to 2 hours before the class without penalty. Cancellations will not be accepted by phone or email. If you do not attend a booked class or if you cancel within 2 hours of the class start time, the class will automatically be deducted from your card.
3. What makes Accordanse special?
Accordanse se veut une école familiale et conviviale. Dès que vous franchissez les portes de cet espace entièrement rénové, vous serez accueilli chaleureusement avec une approche humaine et personnalisée, à la mesure de vos désirs et objectifs. La direction, accompagnée de ses professeurs, veillera toujours à vous orienter vers le/les cours qui correspondent à vos souhaits, attentes ou besoins. Les cours sont limités à 15 personnes, ce qui permet au professeur d'avoir un œil exigeant mais bienveillant sur ses élèves. Vous l'aurez compris, chez Accordanse, nous mettons l'être humain au centre de nos préoccupations. La direction vous accueille en 4 langues (français, néerlandais, anglais, allemand). Même si les cours sont dispensés en français (à part l'un ou l'autre cours de classique niveau avancé), les professeurs sont également multilingues. Accordanse aims to be a family-oriented and friendly school. Focusing on a human and personalized approach you will be warmly welcomed as soon as you walk through the doors of this fully renovated space. The management, accompanied by its teachers, will always make sure to help you finding the class that corresponds to your wishes, expectations or needs. Classes are limited to 15 people, which allow the teacher to keep a demanding but benevolent eye on his students. You will understand that at Accordanse we put the human being at the center of our concerns. The management welcomes you in 4 languages (French, Dutch, English and German). Although the classes are taught in French (apart from some advanced ballet classes), the teachers are also multilingual.
4. What should I know for my first visit?
Bienvenue aux nouveaux élèves, nous sommes ravis de vous accueillir ! Veuillez SVP vous présenter à la réception pour le check-in de votre réservation de cours. We are delighted to welcome our new students ! Please present yourself at the reception for the check-in of your class reservation.
Available sports types and activities