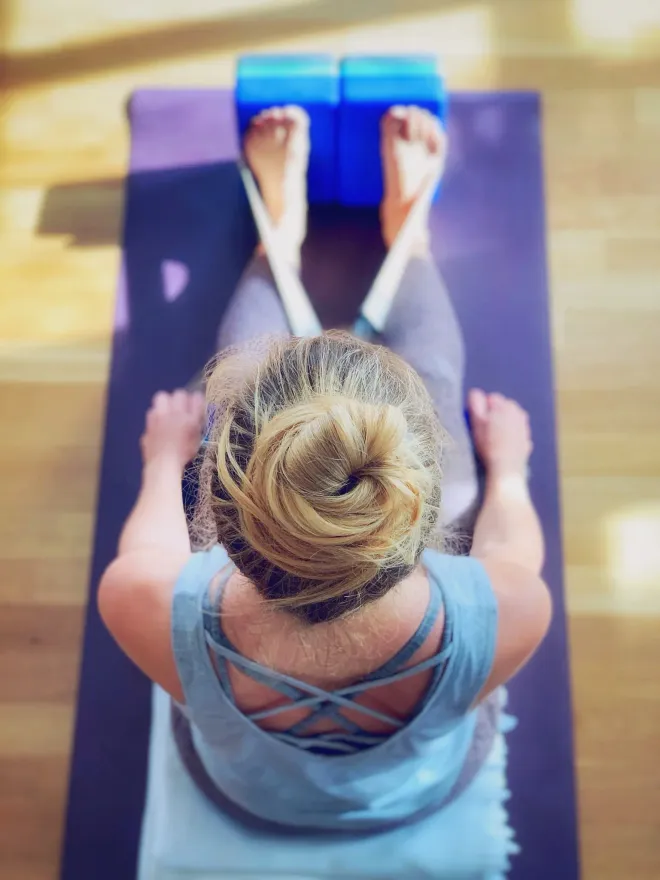 Katonah Renew
Video
Originally live streamed on
Fri, 19/05/23, 08:30 - 09:30 (60 min)
Facility/Studio
Lumines Yoga
Available until
Unlimited availability
Price
10.00 €
Single ticket
15.00 €
LIVESTREAM Class
135.00 €
LIVESTREAM Pass
57.00 €

/ month

Livestream ABO
About the class
Katonah Renew kombiniert das Beste aus Vinyasa, Katonah® und Yin Yoga und führt zu einer Praxis, die Dich gleichzeitig friedlich und erneuert macht. Diese Klasse beginnt mit einer abwechslungsreichen Flow, um den Körper zu entspannen und Wärme in den Muskeln aufzubauen, und endet mit einer erholsamen Dehnungssequenz mit einer köstlich geleitete Magic Square Meditation, der Körper und Geist in Einklang bringt.
Diese Art von Yoga-Kurs bietet erholsame, therapeutische Werkzeuge, um das Nervensystem auszubalancieren, um wirklich Energie zu tanken. Zustände tiefer Geist- und Körperentspannung werden durch die Architektur der erholsamen Posen zugänglich gemacht. Zu den gesundheitlichen Vorteilen einer konsequenten restaurativen Praxis gehören niedriger Blutdruck und Blutzuckerspiegel, reduzierte Schlaflosigkeit, ausgeglichene Menstruation, verbesserte Verdauung und erhöhte Fruchtbarkeit.
Online-Übertragung
Diese Aktivität findet in der virtuellen Welt über Zoom statt. Wir empfehlen, dass Du die erforderliche Software oder App rechtzeitig vor Beginn Deines Kurses lädst auf deinen Laptop, Tablet oder Smartphone herunter. Der Zugriff auf die Online-Sendung ist 15 Minuten vor der Startzeit möglich. Diesen findest du in deinem Online-Profil unter "Meine Buchungen/Aktivitäten". Mit einem Klick auf "Jetzt zum Online Stream" wirst du auf die entsprechende Seite weitergeleitet und du bist online dabei!
........ Katonah Renew combines the best of Vinyasa, Katonah® and Yin yoga, resulting in a practice that will leave you simultaneously peaceful and renewed. This class begins with a grounding varied flow to release the body and build warmth in the muscles and ends with a relaxing stretching sequence and a delicious guided Magic Square meditation, harmonizing the body and mind.
This type of yoga class offers restorative, therapeutic tools to balance the nervous system in order to truly replenish energy. States of deep mind and body relaxation are made more accessible through the architecture of restorative poses. Health benefits of a consistent restorative practice include lowered blood pressure and blood sugar levels, reduced insomnia, balanced menstruation, improved digestion, and increased fertility.
Suitable for beginners and experienced.
LIVESTREAM This activity takes place in the virtual world via Zoom. We suggest that you download the necessary software or app to your laptop, tablet or smartphone well before the start-time of your class. Access to the online broadcast will be available 15 minutes before the start -time. You can find this in your online profile under "My bookings / activities". With a click on "Now to the online stream" you will be redirected to the corresponding page and you are online!
.........
About the trainer/teacher
Founder and owner of Lumines Yoga, Gillian's yoga journey has inspired her teaching to be a reflection of her own values; joyful, fun, creative, informed, and intelligent. As a former professional sports trainer, she loves challenging the limits of her own mental boundaries and of what's possible when the mind and body work together. Gillian's teaching style has ripened through the years with a dedicated and varied practice in multiple disciplines and traditions of yoga. Her teaching method is a uniquely blended Vinyasa framework infused with Katonah Yoga®, a Hatha practice rooted in geometric alignment principals, pranayama, and Taoist theory. As a certified Katonah Yoga® teacher, her experience with this practice allows her to provide pragmatic, dimensional, and practical insights into the material. Her classes are full of creative sequences that are playful yet challenging, and her lighthearted attitude and playlists will always put a smile on your face. Her goal is to make yoga accessible, enjoyable, and informative for everybody so that they can live life at a higher frequency. Her passion for travel has allowed her to train, teach, and learn, as well as lead yoga retreats, around the world. She finds endless joy in experiencing new places, and her retreats aim to share the world with her students in a way that is real, raw, uplifting, and insightful.