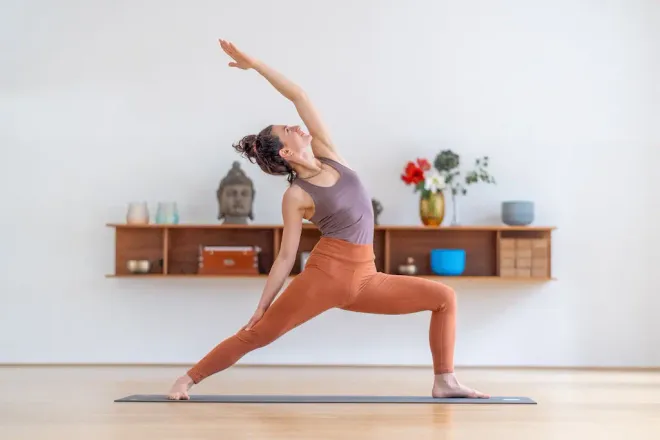 Open Flow Online
Video
Originally live streamed on
Thu, 25/05/23, 07:30 - 08:30 (60 min)
Facility/Studio
YogaKula Vienna
Available until
01/06/2023 08:30 o'clock
Price
10.00 €
Single ticket
10.00 €
INTRO1 - 10 DAYS / 5 CLASSES
70.00 €
INTRO2 - 30 DAYS
90.00 €
10 ONLINE CLASSES
590.00 €
6 MONTHS CARD
1,090.00 €
12 MONTHS CARD
45.00 €

/ month

ONLINE ABO
95.00 €

/ month

FULL-TIME ABO
About the class
(DE) Diese kurze Einheit erwärmt und kräftigt deinen Körper auf intensive und wirksame Weise. Gut aufgebaute Sonnengrüße werden durch gezielt eingesetzte Kräftigungsübungen ergänzt. Asanas im Stehen und im Sitzen runden die Session ab.
(EN) This short and steady flow will open and awaken your whole body, leaving you feeling balanced, energized, and ready to start the day. We start with a few rounds of mindfully sequenced sun salutations, followed by standing and seated asanas to wind down and make the class a perfect start.
About the trainer/teacher
Lenka Minarik was born in Slovakia and worked as a scientist in the field of Medical Physics for 10 years. Her classes represent what she always was passionate about: anatomy and neuroscience combined with the traditional teachings and yoga philosophy.