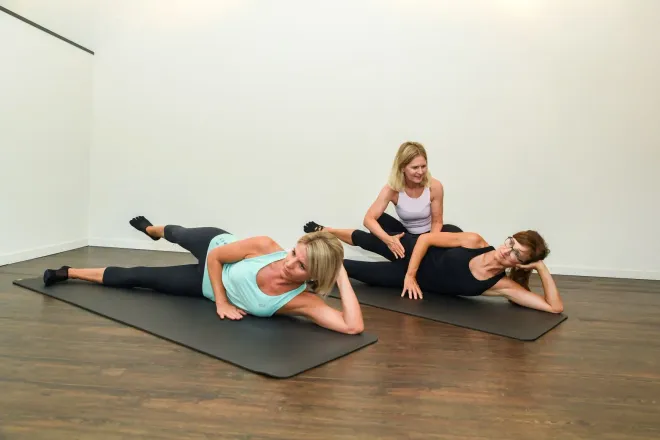 Christine's HIP Pilates - Full Body Strength English (46 min)
Video
Facility/Studio
PILATESWERKSTATT
Availability after purchase
Unlimited availability
Price
| | |
| --- | --- |
| 5.00 CHF | Single ticket |
| 0.00 CHF | Video on Demand - Test Tag Neukunden |
| 29.00 CHF | Video on Demand - 2 Wochen |
| 49.00 CHF | Video on Demand - 2 Months |
| 149.00 CHF | Video on Demand - 12 Months |
About the class
Insturctor Christine Hüsler
Level Intermediate
Squat, Lunge, Plank - get strong and in shape for Summer!
About the trainer/teacher
Christine Hüsler - Deine Expertin für massgeschneidertes Pilatestraining Christine Hüsler, die Inhaberin der Pilateswerkstatt und erfahrene Pilates Studio Ausbildnerin, sowie betriebliche Mentorin mit eidg. FA, ist deine persönliche Begleiterin auf dem Weg zu deinem besten Selbst. Mit ihrer professionellen und authentischen Herangehensweise fördert sie behutsam, aber wirksam dein Potenzial. Christine verfügt über umfassendes Wissen in Anatomie, Coaching und Didaktik. Ihre kreativen Unterrichtsmethoden bringen Freude in jede Stunde und fördern nicht nur deinen Körper, sondern auch deinen Geist. Wenn du nach einem Trainer mit einer Leidenschaft für dein Wohl und einem starken Geist suchst, ist Christine Hüsler die perfekte Wahl. Lass dich von ihrer motivierenden und professionellen Art inspirieren und erlebe, wie sie dich auf dem Weg zu einem ausgeglichenen und gesunden Lebensstil begleitet.