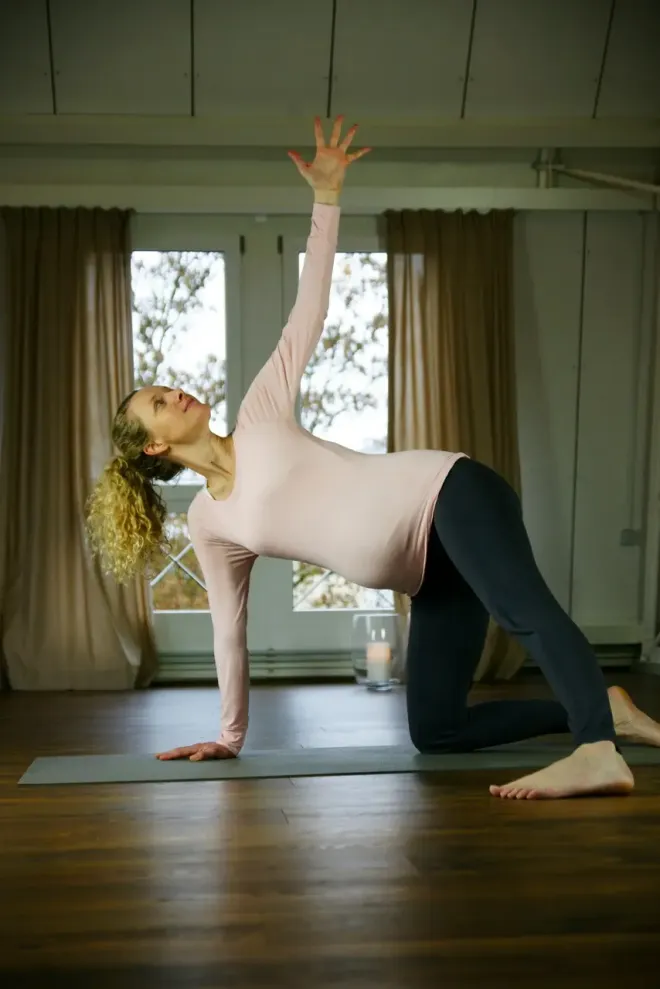 Prenatal Yoga "Sich bewegen und Kraft schöpfen"
Video
Facility/Studio
Yogaraum Ravensburg
Availability after purchase
2 weeks
About the class
Eine Yoga-Sequenz für alle werdenden Mamis, die den ganzen Körper durchbewegt, dich mit deinem Baby verbindet und Ruhe & Kraft schöpfen lässt!
About the trainer/teacher
Seit über 15 Jahren begleitet mich Yoga und mein Leben wäre ohne diese Praxis nicht mehr vorstellbar. Von den vielen positiven Wirkungen des Yogasystems auf Körper und Geist war ich schnell überzeugt: die Asana-Praxis bringt mich in meine Kraft und macht den Körper geschmeidig, während ruhige und tiefe Atmung hilft, die Gedanken im oftmals hektischen Alltag zur Ruhe zu bringen und dabei wieder mehr mit mir selbst in Verbindung zu kommen. Ein Strahlen von Innen heraus - das verbinde ich mit Yoga. In meinem Unterricht versuche ich stets auf korrekte Ausrichtung sowie einen sinnvollen Asana-Aufbau zu achten. Meistens begleitet ein Thema - entweder anatomischer oder philosophischer Art - die Stunde. Außerdem sind Atem- und Meditationsübungen wichtiger Bestandteil meiner Klassen. Zusammen mit meinem sympathischen Team von erfahrenen Lehrer:innen möchte ich unseren Schüler:innen die Schönheit des Yoga vermitteln, sie mit unserem Unterricht insipirieren und so ein Stück weit auf ihrem Weg begleiten. Yoga wirkt - entdecke es selbst!