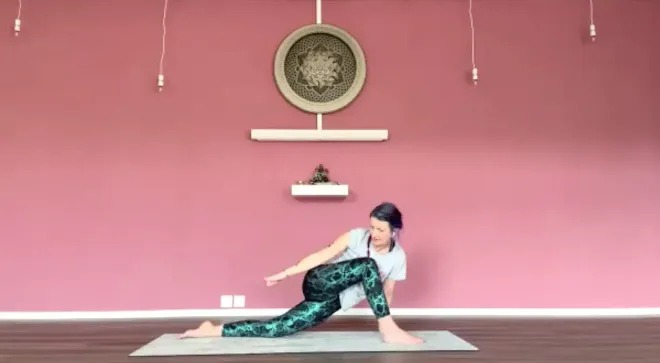 230526 Dhara Surya Yoga
Video
Facility/Studio
Dhara Yoga & Ayurveda
Availability after purchase
24 hours
Price
14.50 CHF
Single ticket
50.00 CHF
Schnupperabo 6 x 30'
130.00 CHF
10 x 30'
240.00 CHF
20 x 30'
420.00 CHF
40 x 30'
165.00 CHF

/ month

Jahres-Abo
175.00 CHF

/ month

Ritu-Abo
About the class
The perfect start into your day. Surya in Sanskrit stands for sun. Accordingly, this class begins rather gently and then slowly brings you up to the right temperature for the day ahead. As in traditional Hatha Yoga, the asanas are introduced and held mindfully. This strengthens the muscles and optimizes flexibility.
About the trainer/teacher
Yoga ist in meinem Leben immer wiedermal aufgeblitzt, aber ich hatte neben Leistungs-, Kampf-, Ausdauer- und Funsport lange nicht so richtig Zeit dafür… bis eine komplizierte Schulterverletzung mich dazu brachte, mal weniger WorkOUT und dafür mehr WorkIN zu machen. Heute ist der achtsame Umgang mit der Gesundheit mein Lebensmittelpunkt. Ich arbeite seit vielen Jahren als Yogalehrerin und als Naturheilpraktikerin Ayurveda-Medizin. Auch heute sind meine Hamstrings noch verkürzt und gefühlt sind meine Arme überdurchschnittlich kurz (man nennt mich auch liebevoll den Yoga-T-Rex). Doch all das lehrt mich jeden Tag aufs Neue, dass wir vor allem im Kopf beweglich sein müssen, um Yoga zu praktizieren. Für den Rest ist Yoga selbst flexibel genug, um sich uns anzupassen. In meinen Yogaklassen will ich meinen Schülern die Dinge leichter zugänglich machen, für die ich erst mit dem Kopf durch die Wand rennen musste.