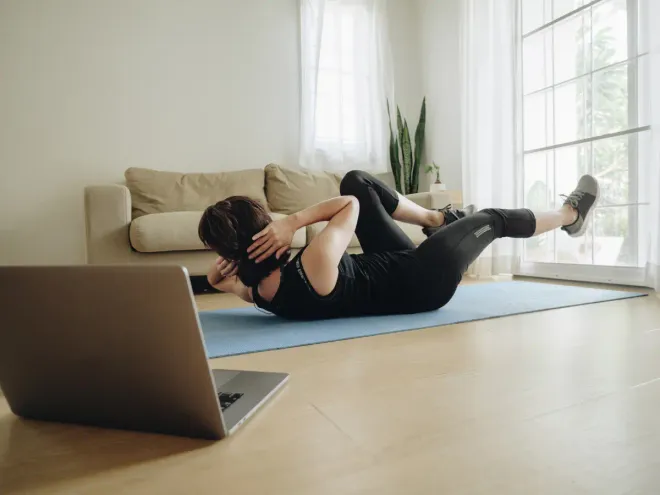 Bauch Training
Video
Originally live streamed on
Tue, 28/03/23, 10:00 - 10:30 (30 min)
Facility/Studio
Holmes Place @Home Online Fitness
Available until
07/04/2023 10:30 o'clock
Price
| | |
| --- | --- |
| 0.00 € | Single ticket |
| 4.50 € | Kursbesuch Einzelstunde (online) |
| 5.00 € | 2 Tage Live Streaming-Kurse Testen |
| 6.99 € | 1-Wochen-Pass für alle LIVE STREAMING-Kurse |
About the class
Das knackige Workout für eine starke Körpermitte. In diesem Kurs liegt der Fokus auf der Bauchmuskulatur, während die unterstützende Muskulatur wie Rücken und Gesäß ebenfalls trainiert werden. Zahlreiche Optionen werden angeboten, sodass sich das Fitnesslevel bei regelmäßiger Teilnahme steigern kann.
About the trainer/teacher
Fitness ist meine Leidenschaft, Musik ist meine Sprache …"and I was born to perform" RAY SCOTT PARDUE Rays enthusiastisches und energievolles Wesen kannst du beim Dance, Pilates und Full Body Workout erleben! Ray Scott Pardue studierte Gesang, Tanz und Schauspiel an der "Youth Performing Arts School" in Louisville, Kentucky und am wohl renommiertesten US-Institut für darstellende Künste, dem Boston Conservatory. In Deutschland absolvierte Ray Scott Pardue zusätzlich noch eine Ausbildung zum lizenzierten Fitness-Trainer und Dance-Instructor.