Workshop: Yoga voor flexibele rug en heupen
Starts on Friday, 18/11/2022
Price from 27.00 €
Description:
In deze workshop krijg je een beeld van hoe spanning & stress, ouder worden, verkeerde houding, minder bewegen of verkeerde en eenzijdige bewegingen kunnen leiden tot (lage) rugpijn en pijnlijke stijve heupen. En dan spreken we nog niet over het veelvuldig zitten aan je computer of bureau die je heupen vast zetten, zitten wordt immers het nieuwe roken genoemd.
Je krijgt theoretische en praktische uitleg over welke spieren in rug en heup een rol spelen, met speciale aandacht voor de heupbuigers en de psoasspier. Deze spier en de heupen zijn een opslagplaats van spanning, emoties en stress. Ook leer je dat zelfs vaste heupen niet alleen plaatselijk invloed kunnen hebben, maar ook pijn in je rug en zelfs effect op je ademhaling en omgekeerd.
We gaan aan de slag met oefeningen om je heupen terug los te maken, soepelheid terug te winnen in je rug en je ware bewegingsbereik te ontdekken en trainen tevens je heup- en rugspieren. Ook de sporter heeft baat bij flexibele heupbuigers zodat zij hun loop-, sprint-en springprestaties kunnen verbeteren. We eindigen met een yogales, specifiek toegespitst op het lossen van spanningen in deze regio's.
Teacher :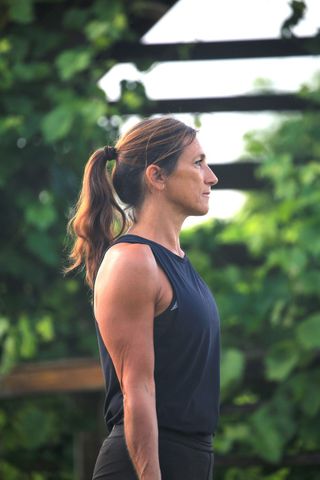 Katja
Dates:
| | | | | |
| --- | --- | --- | --- | --- |
| 1. | 18/11/2022 | 19:30 - 21:30 | Het gezonde huis - Blandenstraat 236, 3053 Haasrode | Katja |
* All prices including VAT