Sampoorna Yoga Day - September 25
Starts on Sunday, 25/09/2022
Price 55.00 €
Description:
A mini-retreat in the city, guided by Eknath & Hanna.
When we are out of balance we don't feel well physically and mentally - we experience symptoms of stress, tiredness, poor sleep etc. To achieve balance we can apply the power of simplicity.
At this Yoga Day in September, we will practice (simply!) hatha yoga, mantra chanting & meditation, and yin yoga. We will also have a discussion on the topic of balance and simplicity - how to apply it in our everyday lives, in our asana practice but also in our food, our homes, our social contacts etc.
Please note the new hours of the Yoga Days (12:00-17:00) - we recommend that you take a good breakfast at home, and bring a small snack for the afternoon. Tea & water offered.
The venue is the beautiful space of Yoga Loft (formerly The Mind Collective) on Chaussée de Vleurgat, just off Avenue Louise in central Brussels.
Teacher :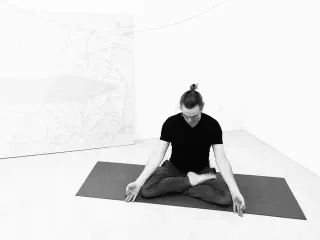 Eknath
Certified Sampoorna Yoga Teacher (E-RYT500) Eknath grew up in a vegetarian family, where nature and the respect for all beings was the daily theme song. In his teen years he got interested in yogic breathing techniques while practicing the saxophone. During his long career as a professional musician (a.k.a. Erwin Vann), Eknath practiced Tai Chi, Aïkido, Hatha Yoga, Chi Kung and meditation. He started practicing yoga regularly 1994. In 2008 – 2009, he participated in the 500h Sampoorna Yoga Teacher Training at Shri Yogi Hari's Ashram in Florida. Eknath has been teaching weekly classes and workshops since then. He is co-founder of the Sampoorna Yoga Studio in Brussels. Furthermore, Eknath studied yoga for children with Marsha Wenig of YogaKids® (2010) and explores Yin Yoga and anatomy with Paul Grilley since 2011. He continues to visit his guru Shri Yogi Hari several times per year to deepen his personal practice and experience the fullness of Sampoorna Yoga.
Dates:
| | | | | |
| --- | --- | --- | --- | --- |
| 1. | 25/09/2022 | 12:00 - 17:00 | Chaussée de Vleurgat 109, 1000 Brussels | Eknath |
* All prices including VAT