Hormone Yoga Course (workshop + practice class)
Online stream
Starts on Saturday, 02/10/2021
Price from 15.00 €
Description:
Hormone Yoga helps to reactivate hormone levels and to effectively prevent or eliminate the symptoms of menopause. It also benefits those women suffering from hormonal disorders (PMS, irregular periods, polycystic ovary, thyroid imbalance) and those who have difficulties getting pregnant due to low hormone levels. Through dynamic yoga poses, energetic breathing exercises, visualization and some Tibetan energy circulation techniques, Hormone Yoga stimulates the glands associated with hormone production i.e. the ovaries, the thyroid and parathyroid, the hypophisis and the adrenals.
Once you learn the sequence it will take you 30 minutes to practice it and it is recommended to practice it at least 3-4 times per week to obtain the desired results. During the workshop we will slowly go through the sequence twice and explain the different exercises step by step. We will also look at some anti-stress and relaxation techniques. At the end you will get a handbook with all the instructions so that you can continue to practice it at home.
This course (85€) includes - 4-hour workshop - 75-minute practice class - closed Facebook group for support between the sessions
Yogis who have previously attended the Hormone Yoga workshop with Lucia are welcome to join the practice class only (15€).
Contraindications: Hormone Yoga is contra-indicated in case of pregnancy and with certain conditions such as active endometriosis, large fibroids, hormone dependent breast/uterine cancer or history of, undiagnosed abdominal pain. If you had Covid and you are still suffering some sympthoms this practice is not recommended until the sympthoms disappear completely.
As a pre-registration in the workshop you will receive a questionnaire to make sure you don't have any contraindications and to allow the teacher to modify the poses for you in case of particular issues.
Online stream
There is an online stream available for this activity. To participate, take the following steps:
Make sure to read the description of your booked activity in advance to know which streaming provider your studio. Download the necessary app to your laptop, tablet or smartphone
Access to the online livestream is available 15 minutes before the start of the activity. Simply go to "My bookings" and click on "Join online stream now" to be redirected to the corresponding page
With some streaming providers (e.g. Zoom) it is possible for participants to see each other. However, it is theoretically possible to deactivate the camera function. The name you enter when entering the online meeting room is displayed to other participants. However, you can always change your name (e.g. only the initials). Please note: Individual rules for online participation may apply for each class or venue.
Teacher :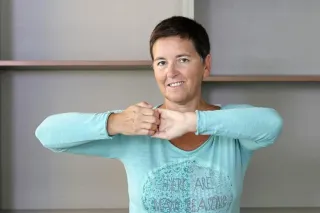 Lucia
I discovered yoga when I was a child and since 2004 I have been practising regularly at Centro Yoga Lila in Biassono (Italy) where in 2010 I completed my Yoga Teacher's Training and where, since the same year, I have been teaching my "Yoga in the kitchen" classes (a course in Ayurvedic, Macrobiotic and Vegan cuisine). From 2012 till 2020 I have been teaching Hatha Yoga, Restorative Yoga and Yoga Nidra in Stuttgart (Germany) and Brussels (Belgium) in various studios and organisations, including the office of the European Union. I also offered regular Hormone Yoga workshops in various studios internationally. I am now back in Italy and due to Covid restrictions I continue to give my classes online.
Dates:
| | | | | |
| --- | --- | --- | --- | --- |
| 1. | 02/10/2021 | 13:30 - 17:30 | Online ., . . | Lucia |
| 2. | 16/10/2021 | 11:30 - 12:45 | Online ., . . | Lucia |
* All prices including VAT