Prenatal Yoga Series Online (5 classes)
Online stream
Starts on Thursday, 02/09/2021
Price from 60.00 €
Description:
Online prenatal yoga class in English, in the comfort and safety of your own home.
Prenatal yoga practice provides the ideal opportunity to reconnect with the changing shapes of the pregnant body whilst helping to maintain strength and posture. Classes include gentle yoga exercises for pregnancy, breath work, and meditation to support and nourish the journey of pregnancy to delivery. Breathing techniques and soundings are used as a powerful tool to connect to oneself and the baby as well as to increase energy stores and feelings of rejuvenation. Suitable from 12 weeks to delivery.
The 5 classes of this series are recorded, and you have access to each recording for 6 days, so if you miss one you can attend it at your own time.
Online stream
There is an online stream available for this activity. To participate, take the following steps:
Make sure to read the description of your booked activity in advance to know which streaming provider your studio. Download the necessary app to your laptop, tablet or smartphone
Access to the online livestream is available 15 minutes before the start of the activity. Simply go to "My bookings" and click on "Join online stream now" to be redirected to the corresponding page
With some streaming providers (e.g. Zoom) it is possible for participants to see each other. However, it is theoretically possible to deactivate the camera function. The name you enter when entering the online meeting room is displayed to other participants. However, you can always change your name (e.g. only the initials). Please note: Individual rules for online participation may apply for each class or venue.
Teacher :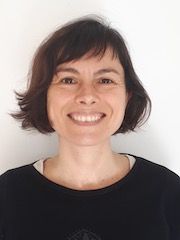 Irene
Certified teacher in Hatha Yoga, Children's Yoga, Prenatal-Postpartum, Yoga as Medicine level I, and Restorative yoga. Irene started practicing yoga in 2009 while working as a researcher in biology. Yoga was a revelation to her, since the first time on the mat she felt the direct and extraordinary connection between the body and the mental state. In 2012, during a turbulent period of her life, she decided to deepen her practice of yoga and attended her first teacher training, Yogalife. Since then her personal and professional life have changed. Yoga and meditation are helping Irene to be fully present to what life offers, accepting and letting go what she cannot control. Now she brings with great joy the teaching that she received from many teachers while continuing to grow her knowledge with leading teachers around the world.
Dates:
| | | | | |
| --- | --- | --- | --- | --- |
| 1. | 02/09/2021 | 18:00 - 19:15 | Rue du Houblon 40, 1000 Bruxelles | Irene |
| 2. | 09/09/2021 | 18:00 - 19:15 | Rue du Houblon 40, 1000 Bruxelles | Irene |
| 3. | 16/09/2021 | 18:00 - 19:15 | Rue du Houblon 40, 1000 Bruxelles | Irene |
| 4. | 23/09/2021 | 18:00 - 19:15 | Rue du Houblon 40, 1000 Bruxelles | Irene |
| 5. | 30/09/2021 | 18:00 - 19:15 | Rue du Houblon 40, 1000 Bruxelles | Irene |
| 6. | 07/10/2021 | 18:00 - 19:15 | Rue du Houblon 40, 1000 Bruxelles | Irene |
| 7. | 14/10/2021 | 18:00 - 19:15 | Rue du Houblon 40, 1000 Bruxelles | Irene |
| 8. | 21/10/2021 | 18:00 - 19:15 | Rue du Houblon 40, 1000 Bruxelles | Irene |
| 9. | 28/10/2021 | 18:00 - 19:15 | Rue du Houblon 40, 1000 Bruxelles | Irene |
| 10. | 11/11/2021 | 18:00 - 19:15 | Rue du Houblon 40, 1000 Bruxelles | Irene |
* All prices including VAT