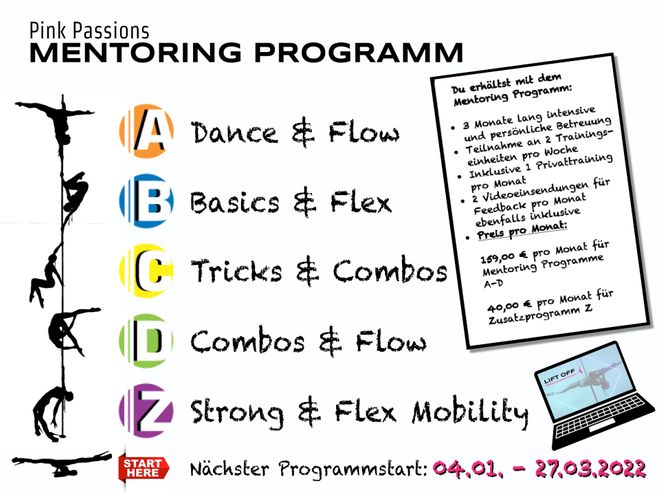 Mentoring Klasse - TECHNIK & DANCE (mit Chrissi)
Video
Originally live streamed on
Tue, 11/01/22, 19:15 - 20:25 (70 min)
Facility/Studio
Lift Off – Poledance Academy Frankfurt
Available until
Unlimited availability
This video is currently not available for purchase.
About the class
Nur für Mentees! Online Klasse zum Mentoring Programm A & B
Das Mentoring-Programm ist ein 3-monatiger Intensiv-Kurs, der auf das effektive Erreichen deiner Ziele ausgerichtet ist. Du kannst zwischen verschiedenen Schwerpunktthemen wählen, die dein Training und die Trainingstage bestimmen. Das Training findet Online via Zoom in Kleingruppen statt, was eine individuelle Betreuung durch unsere Technik Expertin Chrissi ermöglicht. Mit Adleraugen werden eure persönlichen Schwächen identifiziert und mit effektiven Übungen und technischem Knowhow daran gearbeitet, es in eine Stärke umzuwandeln.
About the trainer/teacher
Gründerin von LIFT OFF und Cheftrainerin seit 2013. Chrissi ist ein Allround-Talent und deckt alle Stile von Pole in ihren Trainings und Workshops ab. Ihr technisches Know-How und Können hebt sie von vielen anderen Pole-Trainern ab. Durch ihre Zusatzausbildungen in Anatomie und Mobility, legt sie großen Wert auf ein ganzheitliches und gesundheitsorientiertes Training. Ihre Schüler schätzen ihre freundliche und motivierende Art ebenso wie Chrissis Expertise.