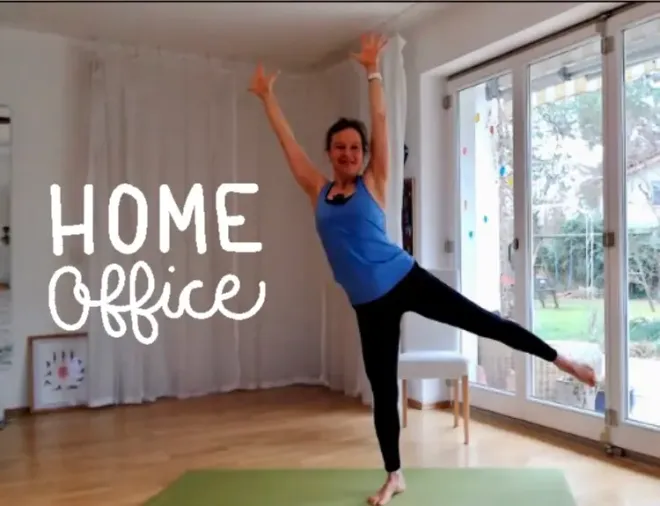 Der gesunde Rücken im (Home) Office - 2: 10 Minuten funktional bewegen
Video
Facility/Studio
Brigitte outdoor_indoor
Availability after purchase
12 months
Price
99.00 €
Video Bundle "Der gesunde Rücken im (Home) Office"
549.00 €
365 Tage "move and be happy" online
849.00 €
365 Tage "move and be happy"
60.00 €

/ month

Abo 1 Monat online
90.00 €

/ month

Abo 1 Monat ALL IN
About the class
Der gesunde Rücken im (Home) Office.
Wie halte ich meinen Rücken gesund im (Home) Office bei 7 - 9 Stunden Bildschirmarbeit.
Mindestens 15 Minuten pro Tag bewusst durchbewegen.
Davon 1 x in einer funktionalen Übungsreihe (ca. 10- 15 Minuten) und mehrere Male für ca. 1-2 Minuten.
In dieser Videoreihe bekommst du von mir 2 Videos (Programm 1 und 2) mit 10 - 15 Minuten Länge, die du vor, nach oder auch während deiner Arbeit turnen kannst.
Es folgen Kurzvideos mit ca. 2 minütigen Übungen am Arbeitsplatz für verschiedene Rückenbereiche.
1 Video "Rücken-Yoga"
1 Video "Pilates für den Rücken"
Bewege Dich alle 20 - 45 Minuten.
About the trainer/teacher
"move and be happy" Schon seit dem ich denken kann gehe ich den "Weg der Bewegung". Umwege, Stolpersteine und Sackgassen gehören immer noch genauso zu dieser Reise, wie Begeisterung und Authentizität. Mein Unterricht ist authentisch und spiegelt meine Ideen und Neugierde wieder. Meine Reise: Über klassisch Groupfitness: Spinning ®, Hot Iron ® und eine der ersten DEEPWORK® LehrerInnen, ging ich weiter zur Pilates-Ausbilderin und zur BODYART® Elite Instruktorin. Ich bin mit weit über 500 h im Yoga ausgebildet. Nutze mein breitgefächertes Angebot, um ganzheitlich trainieren und praktizieren zu können - von überall aus online und präsent in Oberhaching und Umgebung. Outdoor wie indoor. In der Gruppe oder im Einzeltraining. Mit vielen Videos on demand zu jeder Tageszeit. Beweg Dich und sei glücklich!