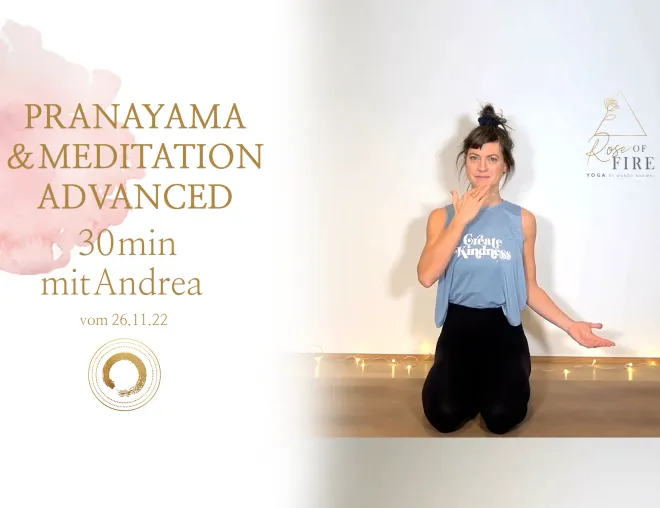 Licht auf Jalandhara Bandha: PRANAYAMA & MEDITATION ADVANCED mit Andrea vom 26.11.22 // 30 min
Video
Facility/Studio
ROSE OF FIRE - Yoga by Wanda Badwal
Availability after purchase
1 week
Price
5.00 €
Single ticket
29.00 €
10 Tage - Online Ticket (29€ - 2,90€/Tag)
99.00 €
"YTT Ticket" für Teilnehmer des YOGATEACHER TRAININGS: € 99.- (regulärer Preis ohne Voucher - setzte hier den geschickten Code vorher ein)
220.00 €
200h-YTT 2023 "Remember who you are" - Nur für Teilnehmer des Trainings. Löse hier deinen Code ein!
45.00 €

/ month

Online Yoga Membership - 12 Monate
49.00 €

/ month

Online Yoga Membership - 6 Monate
55.00 €

/ month

Online Yoga Membership - 1 Monat
About the class
In dieser Praxis bekommst du eine Einführung in Jalandhara Bandha - den Kinnverschluss und erfährst, warum es das erste Bandha ist, das wir beherrschen sollten und warum es zum Grundwissen jedes tantrischen Yogis gehört.
About the trainer/teacher
"Change your energy and your life will follow" ... - der Satz, der Andreas Leben nach ihrer Ausbildung zur Yogalehrerin bei Wanda Badwal nachhaltig verändert hat. Für sie geht es auf der Yogamatte und im Leben darum, Meisterin über ihre Energie zu werden. Dafür bietet der tantrische Yogaansatz einen reichhaltigen Werkzeugkasten an verschiedensten Instrumenten, mit deren Hilfe wir Einfluss auf unseren energetischen Zustand und unser Wohlbefinden nehmen können. Andreas Mission bei Rose of Fire besteht darin, ein ganzheitliches Yoga hinter der Asanapraxis zu vermitteln und ihren Schüler*innen zu zeigen, dass wir alle selbstwirksam werden können. Denn es liegt an uns, wie wir den Herausforderungen des täglichen Lebens begegnen und wie wir unsere Energie jonglieren.