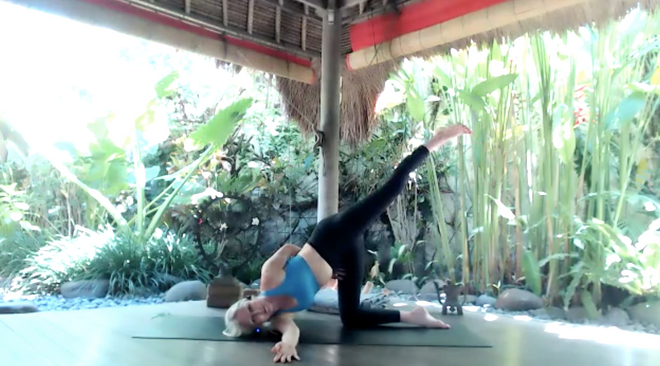 Gratitude - Bali Yoga with Beate - Online Replay
Video
Facility/Studio
Bali Yoga Wien
Availability after purchase
72 hours
Price
| | |
| --- | --- |
| 5.00 € | Single ticket |
| 5.00 € | Bali Online Schnuppern |
| 10.00 € | Covid support ONLINE Drop in |
| 13.00 € | Bali Yoga ONLINE Drop-in 90min |
| 30.00 € | Online 30 Day Trial/Schnuppern |
| 60.00 € | Bali Yoga 5 class block ONLINE |
| 80.00 € | Online Monatskarte |
| 108.00 € | Bali Yoga 10 class block ONLINE |
About the class
Diese 90 min Stunde mit Beate ist auf Englisch und das Thema ist: Dankbarkeit
This 90 min practice with Beate is in German and the theme is: Gratitude
Bitte das link selber in Eversports anklicken, wenn Du diese Praxis machen möchtest!
Diese Yogapraxis besteht aus einer bereits aufgenommenen Yoga Stunde mit Beate im Juni 2021 auf der Insel Bali. Du wirst eine eklektische Mischung von Yogatechniken (Hatha, Kundalini, Vinyasa, Iyengar inspiriert, Yoga Bootcamp, Freier Stil und Liquid Yoga) genießen, die genaue Ausrichtung Deines Körpers mit Somatik aber auch intensiver Fokus mit Tanz synchronisieren, um beide Gehirnhälften auszubalanzieren und Dein endokrines und Immunsystem zu stimulieren. Es wird meistens Pranayama und eine Meditation einschließen. Diese Praxis ist mit Yogaphilosophie gespickt, die an die heutige Zeit angepasst ist, um uns auf die nächste Stufe in einer Welt zu bringen, die uns JETZT braucht.
---
This yoga practice consists of a yoga class taught by Beate in June 2021 on the island of Bali. You will enjoy an eclectic mix of yoga technics (hatha, kundalini, vinyasa, iyengar inspired, yoga bootcamp, free style and liquid yoga) synchronising detailed body alignment with somatics as well as intense focus with dance to balance both sides of the brain and stimulate your endocrine and immune system. There will be a meditation and pranayama to end or start. This practice is sprinkled with lots of yoga philosophy adapted to present times, to take us to the next level in a world that needs us NOW.
About the trainer/teacher
Gründer Bali Yoga Wien, Bali Yoga & Wellness, Bali Villa Management Beate ist aus Innsbruck, war aber fast 30 Jahre im Ausland und davon über 22 Jahre in Bali. Ihr "Inselerlebnis" erweckte viele Leidenschaften: von Innenarchitektur über Villenbau und -management bis zu gesunder Ernährung, alternativen Heilmethoden und natürlich ... Yoga! Ihr Yoga basiert auf einer Mischung zwischen Iyengar Yoga (das sie mit dem Seniorlehrer Olop Arpipi in Indonesien seit über 20 Jahren intensiv praktiziert), therapeutischem Yoga und intuitivem Vinyasa Flow. Wichtig ist ihr Yoga über die Asanas (Körperübungen) hinaus zu unterrichten. "Yoga ist mehr wie ein Handstand.