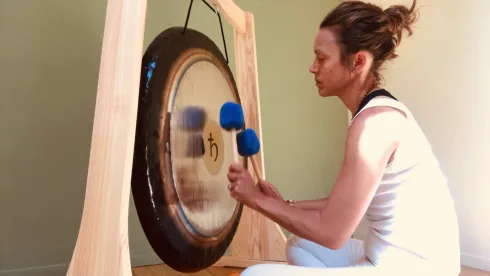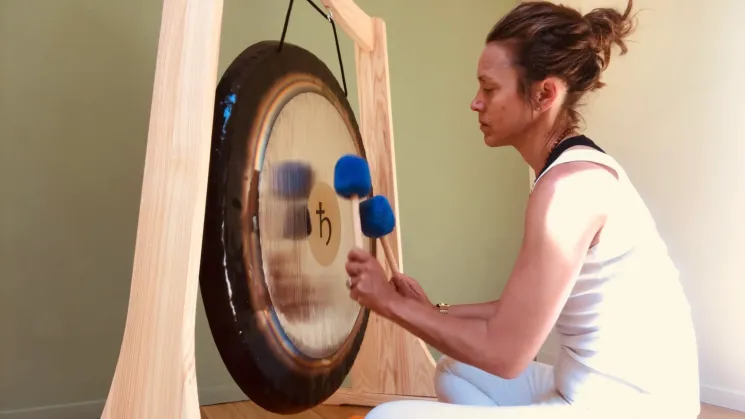 Hatha Yoga and Gong Bath - A Magical Journey for Your Mind, Body and Soul.
Level
All Levels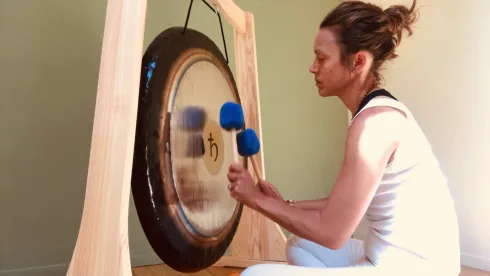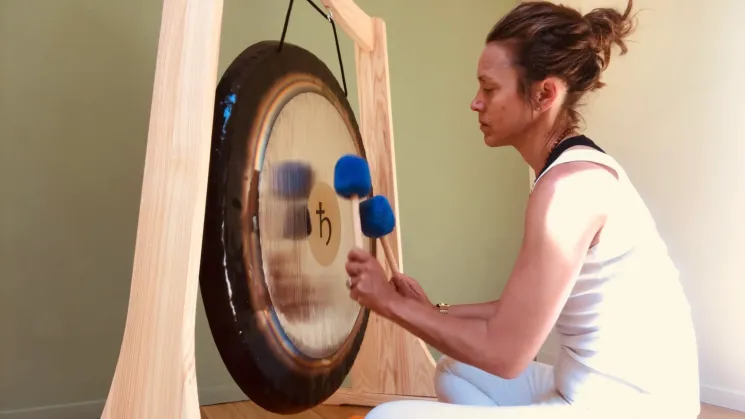 Sometimes in life, we feel anxiety. We feel stressed. We find ourselves holding on to negative energy or feel heaviness in our body and in our heart. Sometimes it's difficult to let go and ease into relaxation. Does that maybe resonate with you?
Join Elise and experience the healing benefits of a Gong Bath and Hatha Yoga during this two-hour magical journey for your Body, Mind and Soul.
Elise will guide you through a meaningful and peaceful 75-minute Hatha Yoga practice (all levels), which includes Pranayama (breathing techniques), Asanas (postures), and Relaxation. Hatha Yoga is a wonderful practice that will help you increase muscle tone and strength, improve mobility, posture and balance, relax the nerves and reduce tension, enhance focus, mental clarity and concentration, and promote a sense of inner peace and wellness.
You will then be taken a gong bath, a magical sound experience. Immerse yourself in the sounds of the gong and you will achieve a deeply relaxing, meditative state. Apart from its mesmerising sound, the gong has been shown to have therapeutic value:
Clears emotional blockages and tensions
Creates deep relaxation in the Mind & Body
Bring you into a deep meditation state
Improves Sleep & Increases Creativity
Help you cope and reduce stress and anxiety
Bring deep awareness & connection between the mind & body
A wonderful programme that will leave in a state of deep relaxation and inner peace.
Date
Started on Friday, June 3, 2022
Multiple sessions - see schedule
Chaussée de Vleurgat 109, 1000 Bruxelles
Teacher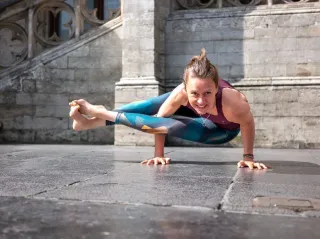 Elise R
About
Before becoming a Yoga teacher for the Brussels Yoga Loft, Elsie tried several different careers and studied intensively in South Africa. Her dedication to health and well-being has led her to become a Holistic Health Coach with a passion for Ayurveda and Yoga. Within her Yoga classes, she creates a safe and nurturing space for her students and aims to inspire you to achieve lasting, vibrant health and maintain a healthy mind/body balance. She also encourages her students to evolve into an authentic and pure version of themselves.
Schedule
Check out which dates are available for this event
| Date | Time | Location | Teacher |
| --- | --- | --- | --- |
| 06/03/2022 | 06:30 PM - 08:30 PM | Chaussée de Vleurgat 109, 1000 Bruxelles | Elise R |
Cancellation policy
Je kan tot 24 uur voor aanvang gratis online annuleren.
Hatha Yoga and Gong Bath - A Magical Journey for Your Mind, Body and Soul.
Date
Started on Friday, June 3, 2022
Multiple sessions - see schedule